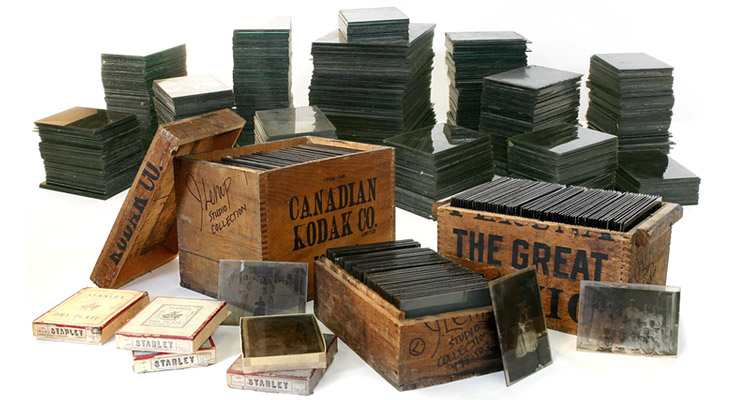 More than 100 years after the first photographers stepped into the Huron Tract to record the daily activities of our forefathers, the Lemp Studio Collection was born to preserve the glass negatives of Tavistock's early cameramen. Rescued from the Lemp Studio in 1977, the collection of nearly 4,000 glass negatives has since been catalogued and researched with the help of many interested citizens.
The late Carl Seltzer first became aware of the extensive collection stored in the attic of the old photo gallery when he was doing research for his centennial book published in 1967, entitled "Fact & Fantasy, A History of Tavistock & District". The value of these negatives was apparent to Tavistock Gazette publisher C. Robert Gladding who urged his son W. J. (Bill) Gladding to acquire the negatives from Leonard Lemp. At that time Mr. Lemp, son of the photographer John Lemp, was disposing of the business to Sinclair Pharmacy.
Bill Gladding, with the help of C. J. (Hap) Steinman and Jonathan Blum, removed the precious negatives from their 72-year rest in the Lemp attic and the chore of printing and cataloguing each negative began. Tim Mosher, at the time a student at Conestoga College, painstakingly looked at each negative and placed it in its proper category for future reference. Portraits, family groups, buildings, animals, and street scenes, etc. were all catalogued with negatives ranging in size from 8x10, to 5x7, 4x5, 3x4 and 2x3. Contact prints were made of many of the recognizable, good quality negatives, and then began a search for the identity of the subject and date each photograph was taken.
Many of the early 8x10 plates are believed to have been taken by J. C. Sutherland who operated a photo gallery on Woodstock Street South in Tavistock until 1896 or A. O. Murray who continued until 1903. W. I. Becker of Stratford operated a gallery one day a week from 1903 to 1905 when John Lemp opened his studio on Hope Street West, and acquired the early photographers' inventory of glass negatives.
From early records we find that Tavistock had a photo gallery here in 1878 with the earliest signed photos marked by one of the following three photographers: "J. McEwen, Photo Artist, Tavistock, Ont." ... "Geo. Davidson, Photographer, Tavistock, Ont." ... "Elliot, Tavistock, Gallery open Monday afternoon & Tuesday".
Excerpt from Crossroads in Time: A pictorial history of Tavistock (1890-1920) - The Lemp Studio Collection (©1998)